In
this week's column
I mentioned the woman who sent me a picture of her rats dressed in tiny halos for Christmas. In so doing, I opened the floodgates.
Today I received several e-mails from rat-loving types like this woman:
They all wanted to tell me about their beloved pet rats.
Rats like Sambo: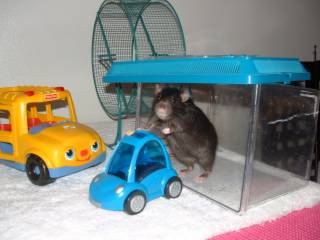 And Beigey:
Many of the pictures showed the rats taking part in some activity.
Here's Mike getting ready to party in Mexico.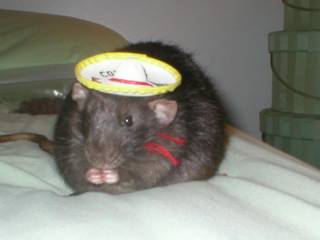 Here's Hank heading off to school:
And here's an unnamed rodent rocking out, Ben Folds style:
Several of the rat pictures I received followed the
original Christmas theme
.
This guy is wishing you a Merry Moose-Mas (which is strange, because he's clearly not a moose -- he's a mouse):
Here are Euan, Joy and Sophie waiting for the rodent Santa to arrive:
And here's the rodent Santa in the fur! Look kids, rodent Santa!!
But I'm afraid none of the pictures topped the rat birthday party. Check out the icing on their faces -- that sort of attention to detail easily establishes this as the best of the rat photos: