After mentioning my teeth in a
recent post
, I decided to take a picture, so you can see what I'm talking about:
But I am so ashamed of my teeth, that I can't even legitimately show them to you to make fun of myself. This is the closest that I will allow myself -- look how I'm forcing myself to keep my lips apart as I take the picture.
The picture does, however, give you a pretty good view of my oh-so-sexy crooked nose.
This picture shows the oddity of my proboscis even more: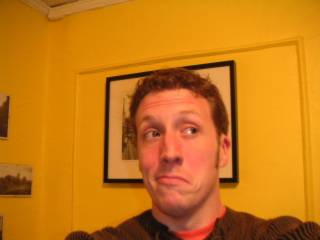 It's crooked like that because it was broken by a baseball bat when I was a young man. I was the catcher for a pick-up game and leaned in too much to catch a pitch, causing the batter to foul tip off my face. Good times.
Perhaps the only real plus to looking the way I do is the fact that I don't look like anyone else (pity the poor soul that would look like me). Regardless, every once in a while someone will come up with a totally off-base celebrity comparison.
Years ago, someone told me I looked like
Roger Daltrey
from The Who. My best friend, Eric, insists upon comparing me to
Jon Stewart
. As I say, Eric is way off-base, but here I am doing my best to impersonate a stock Jon Stewart facial expression: