I'm spending this week working on my book. I should have everything ready to send to an agent by the start of next week. Maybe. On Monday I bought the
2005 Guide to Literary Agents
. The fact that there is such a book kind of deflates one's hope for being published, I think. There are so many people desperate to get published that there is a market for books telling them how to do it.
But sending off queries should keep me busy for the next little while. I'm not really sure what to do if all that fails. I think at that point, I'll just offer it for free to anyone who's interested. Although, who would be interested in a book that was rejected by upward of 100 literary agents?
Crystal
described me
as the love child of Johnny Bravo and Hugh Grant. That's sarcasm, but it still made my day.
What's the problem with the monkeys at Blogger? In my
user profile
it says my most recent post was in November.
What is your favorite room in your home and why?
The living room. It's got the Christmas tree in it.
The beautiful and talented Mrs. Cope and I drove out to a tree farm Saturday and cut down a big, bushy-looking Christmas tree. Here's a picture of it: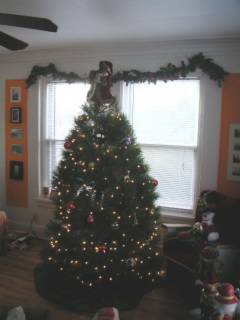 It's a little sparse, perhaps, but I like it. My friend, Eric, and his wife, Kristin (who this week spent several minutes having me explain to her what a blog is, then showed no interest in seeing mine), have a tree with dozens of ornaments. Both their parents had followed a tradition of collecting ornaments in preparation for the one day that their children would marry and begin Christmas traditions of their own. In some countries, you marry a gal and you get a goat. Marry someone from Bloomington, Minn., and you get Christmas ornaments.
My wife came into our marriage with excessive dining ware. My parents never set aside anything for me because I'm sure they expected that in high school I would get a girl pregnant and have her move in with us.
Our first Christmas was in Reno, Nev., I bought a tree for so much more than it should have cost that I am embarrassed to admit it -- $75 (the tree I bought this year cost $20). It was about 9 feet tall and I had to saw off bits to get it to fit in the apartment. We had no money for ornaments (in part because I was keen to make horrible financial decisions, like paying $75 for a tree. I swear, I will be beating myself up about that on my death bed), so we drove up to Lake Tahoe and collected the large Ponderosa pine cones to use as ornaments.
We bought a handful of ornaments in after-Christmas sales and put them on our tree the next year, along with Black Santa: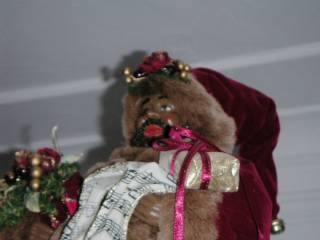 He cost $9 at the Ben Franklin and I refused to let him out of my grasp as we checked out. We've bought a few more ornaments over the years, but Black Santa is always the best part of the tree. Every year, when we are forced to put him away, I put him in an extra special sturdy box that's loaded with tissue paper. Protect Black Santa at all costs.