For no particularly good reason I decided today to take a camera with me so I could blog my daily commute home from work. If you want to know what my commute
to
work is like, just read the blog post in reverse.
Below are the shining suburban headquarters of my benevolent employer. It is after 5 p.m. on a nice day, so just about everyone has gone home. On Fridays it looks like this by 2 p.m.
This is Mendota Heights Road.
The above is a comfy downhill slope (or drudging uphill climb, depending on which direction I am going) that runs about a mile to this stunning view of... the airport. That tiny dot in the sky (on the right) is an airplane. In modern-day America it is probably illegal for me to take pictures of airports or airplanes. Hello Guantanamo!
Below is a section of the
Big Rivers Trail
, which was just behind me as I was taking the picture of the airport. Here's a God's-Eye view of
where I am standing
.
I follow the trail for about two miles until I get to the Mendota Heights Bridge, which is pictured below. You may be able to see a few skyscrapers off in the distance -- that is downtown Minneapolis. Recently, my benevolent employer issued a request that we tell people that our headquarters is located in Minneapolis. Not only is this clearly inaccurate, but I take particular offense to it because I live in St. Paul.
Here I am on the Mendota Bridge. The bridge is just shy of a mile long and crosses the Minnesota River, which, I can tell you from personal experience, is not the greatest of rivers to swim in.
The picture below was taken about one-third of the way across the Mendota Bridge. Just around the corner, the Minnesota River ceases to be and joins up with the Mississippi River. That river then winds its way along to those skyscrapers you see in the distance -- downtown St. Paul. This view is one of my favorite parts of the trip.
Once I get across the bridge, I pass by
Historic Fort Snelling
, which is pictured below.
It's pretty unimpressive as far as forts go, but Minnesota is not the sort of place in which you need to go around building forts, anyway. One of the safest places to be during a war, I suspect, is right here in Minnesota. We are far from invasion and possess no strategic military targets (except, of course, for a handful of fur trading posts turned novelty forts).
Apparently they offer tours of this fort on weekends and such, and I have on occasion seen guys in pioneer-era military garb marching around outside its walls, but I can't say it's ever really interested me. It doesn't really interest anybody else, either. Behind me in this picture are acres and acres of abandoned military barracks, preserved primarily due to their extreme proximity to the airport. You can't build anything on this land, so what was here before the airport came is seemingly all that will ever be here. I like that fact quite a bit.
I imagine that the people who lived at this fort centuries ago were miserable in the summer. As I say, the Minnesota River meets the Mississippi River nearby, so the fort sits above some rather marshy area -- mosquito heaven.
The picture below is of the Mississippi River. It's not a very good picture because it was taken staring directly into the sun. I took the picture while standing on a bridge that is either (depending on how long you have lived in the area) the 7th Street Bridge, the Highway 5 Bridge, or the Fort Road Bridge. Unlike the Minnesota, I think the Mississippi is an OK river to swim in. At this point at least. We are the first major metro area to have the opportunity to dump shit into it at this point, so it is still relatively tolerable. Heaven help anyone who even gets near this river as it runs through Louisiana.
The picture below was taken at
Cleveland Avenue and Mississippi River Boulevard
in St. Paul. I follow this road for several miles, doing my best to avoid being hit by the occasional idiot SUV driver. Look how wide this road is, for the love of Pete! You could turn an ox cart around in it. Yet drivers of SUVs are always uncomfortably close when they pass.
Here's a baseball game that I passed on my way home. On the other field there were some really cute kids playing baseball, but in modern America it is not OK for some random bloke to ride up on a bike and start snapping pictures of kids.
From just beyond the baseball field up to the
College of St. Catherine
, Cleveland Avenue gets a little busy. I have to pedal pretty hard and there aren't any good places to stop and take pictures. So the picture below was taken once I had made it to
Prior and Randolph
.
Directly behind me is the College of St. Catherine, a Catholic college. I am just over one mile from home at this point, and in that mile I will pass four churches. Minnesotans love God.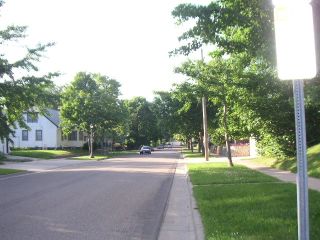 The picture below may look a little familiar. I took a picture of the same building back in
January
. It looks a little different now.
And with that, I have returned home. My legs are usually shaking at this point and I have a tremendous urge to drink beer. Just looking at these pictures makes me want a beer.