What could be more patriotic than celebrating Independence Day at an Irish pub? My wife and I went to
The Liffey
for lunch Monday, which made me a very happy boy.
The Liffey has a new outdoor seating area (relatively new -- it wasn't there in
March
) and it is fantastic. You're right in the heart of St. Paul and you get an unadulterated view of the
cathedral
.
While I was there, I had Rachel take a few pictures of me so that I can finally put up a new photo in my
profile
.
We took this one:
And this one: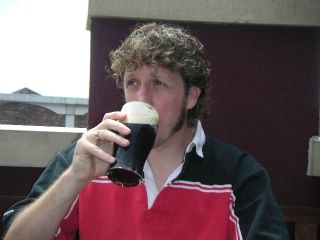 I decided to go with the first one as my profile picture, although there's a strong argument for the second because the pint glass obscures part of my face. Both of these pictures are better than the ones I attempted to take the other day when I was sweaty hot and had foolishly chosen to push my hair back.
I am very sad that I am so self-conscious of my appearance. Perhaps this would make sense if I were a male model, like
Gene
, but I'm just some ugly bastard who really should come to terms with the fact that regardless of the lighting or angle or hairstyle or facial expression I will still not look good.
I took several sweaty-hot-hair-pushed-back pictures and they all turned out horribly:
Here I am attempting the
bored look
.
Here I am attempting the
jovial look
.
In this picture I am blatantly stealing technique from
Linus
in taking a picture of myself
with something in my mouth
. This is actually a good technique, as it obscures part of my face (see picture with pint glass above). But I decided not to go with it because I'm pretty sure Linus would have sent his people after me.
This last picture is just wrong. You know those movies in which the lecherous, abusive and drunken uncle chases after the young heroine and usually ends up getting himself rightfully killed on the English moors? That's what I look like in
this picture
. I have no idea what the hell went wrong with there but it's just downright scary: "Come here, Eliza. Bring your uncle Chris a bottle of gin. I said, gin, dammit! Not whiskey. You need to be taught a lesson..."