This week I was asked to take a new picture of myself to accompany
the column
and replace the
stylin' image
we've been using for almost four years. Look at me all clean-cut and wearing a tie. That picture was taken shortly after I had visited London and noticed that everyone there was better dressed than me. So, for a while I took to dressing relatively nice and wearing a tie and remembering to shave more than once a week.
That didn't last four long, of course, due to the fact that I worked in a sort of cave behind a television studio, and I promptly
grew out
my hair.
When I first moved to Minnesota, I had my
hair cut
again in an attempt to make a good impression, and I kept it short well into
last summer
. But there's not really anyone up here upon which to make a good impression and things have degraded to the point where I occasionally fail to wear shoes at the headquarters of my benevolent employer.
So, I'm growing out my hair again. One of the reasons for growing out your hair, if you're male, is that you have given up on proper grooming. You are saying to the world: "I don't really care how I look."
But, see, I do care. I just can't be bothered at the present time to do anything about it. The end result of this attitude is that I am a big girl when it comes to pictures of myself -- I'm not happy with any of them. Attempting to take a new picture for the column put me in fits.
I took no less than 60 pictures of myself with my digital camera. I didn't count, actually, but I'm sure it was that many -- if not more. I held the camera at different angles, tried various poses and facial expressions. In one series of about six photos I kept the same facial expression and simply rolled my eyes 360 degrees. I started out taking pictures of myself with my hair back, but then took a shower and pushed my hair forward for my photos. That's how lame I am.
But, of course, the greatness of any photo is limited by the greatness of its subject. After a while I came to terms with the fact that no matter how many pictures I took, none of them would turn out well because of what I was taking a picture of.
Eventually, I narrowed it down to four photos:
I think I actually took more hair-pushed-back pictures than hair-forward, but this is the only one I kept. I am half trying to smile in this one, but not smiling because I don't want to show my teeth (it's a sign of aggression, in dogs, you know. I wouldn't want my canine readers to get the wrong impression). As a result, I have a stupid sly look on my face that I thought might match the "I'm in the mob" sly look that was employed in the old picture. In the end, however, I decided against it.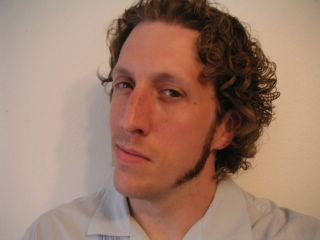 I thought that perhaps the picture below would make a good one for the column because it gives me a jovial perplexed look. But the problem here is that I look a little bit like a teenager. That's probably not the look I'm going for when I'm writing columns that reference my being married for 6½ years. People would read my columns and think: "Has this guy been married since he was 12? Does this column originate in Kentucky?"
I decided against the picture, but will keep that look in mind should I ever be keen on picking up a high school chick.
I actually considered for a long while my using the picture below. Something about it says "I'm the unknown member of
Spacehog
." I decided against it because it looks a little too serious.
I eventually settled on the picture below not because I like it, but because I dislike it less than the others. There are some things about the image I like, though. I like the fact that my hand is partially obscuring my face -- this picture could use more of that. Perhaps I should have done some sort of 80s-style jazz hands thing in which I am hiding behind my hand. But then I probably would have been a big girl about the way my hand looks.
I also like the way that it is blurry on the edges, making it look like an old-fashioned passport photo which, when added in with the guayavera I'm wearing, inexplicably to me gives it a Cuban feel. Things that are Cuban are, of course, good, because I'm going to be president of that country some day.