Per Sara's request in
a recent post
, I have taken a number of character-based pictures:
The Pimp
:
I'm suffering from a certain bling deficiency in this one, but my coat is 100 percent big pimpin'. I bought that coat for $20 at a thrift store in Reno, Nev., where I used to run a brothel (OK, half of that sentence is true). I dig the 70s porn lighting that this one seems to have.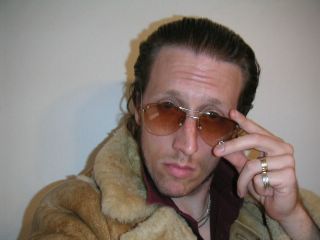 NASCAR Fan
:
I'm sorry if this one hurts your eyes, but nothing seemed more authentic than a shirt-off pose. I have the teeth of a NASCAR fan, but my beer is way too high class. I didn't have any Keystone Light in the house, and I wasn't about to go out and buy some just for the sake of a picture. Also, NASCAR fans probably don't wear Claddagh rings.
The Academe
:
Easily the biggest stretch of my caricature ability, I'm not sure I look so much like an academic as I do a pseudo intellectual that sits in coffee shops. Imagine that something by Sartre is in my right hand. I used to listen to Joanna Newsom until she sold out.
The Pirate
:
Avast thar! No jaunty scarf could be found, so I used a table runner. But check out my authentic pirate-type shirt as purchased at the
Renaissance Festival
last year. Of course, parrots are for worthless scurvy-infested scalawags, so I have a dolphin. Actually, it is my wife's dolphin. Its name is Dottie.