My pack only weighed about 40 pounds, to answer
Hoss' question
. My wife's pack weighed less. I can't say how much less because that would provide you with too much information when I say that both of us stuck to that old rule that your pack should weigh no more than 25 percent your body weight.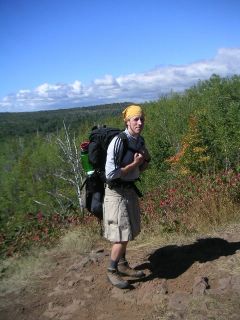 Showing off my 40-pound pack and oh-so-stylish Utilikilt. Lake Superior is behind me.
Actually, I don't know if that is a set-in-stone-type rule or a made-up-in-my-head-type rule. I'm sure we would have been happier carrying a little less weight, but neither of us is in any sort of extreme pain on the day after returning home, so I think we did alright.
Rachel with her back to Lake Superior.
Over a space of four days, we hiked about 32 miles -- from Gooseberry Falls State Park to Christmas Tree Ridge and back. These place names likely mean absolutely nothing to you. They certainly wouldn't mean anything to me if I weren't sitting here referencing my "Guide to the Superior Hiking Trail; 2004 Edition."
A view of Lake Superior through the trees from Bread Loaf Overlook.
Originally I thought we would go much further because I've done plenty of 12-mile day hikes without any problems, so I am still a bit embarrassed to admit that we only traveled 32 miles. I used to be able to get up and down Cuyamaca Peak (near San Diego) in just a few hours. Of course, I was forgetting about how much a pack slows you down.
Every campsite along the Superior Hiking Trail provides quality toilet facilities.
Our first night was spent at a campsite alongside the Split Rock River. Rachel was completely defeated by the time we got there because she had packed her bag poorly but refused to stop and repack everything on the trail. Instead she chose to be miserable. This is my least favorite thing about my wife -- occasionally she will go into this hardcore mode and refuse to do something any other way than the most difficult and bullheaded way imaginable. Of course, she is not one to suffer silently, so I was miserable, too. I had taken time off work for this trip, so in one way I was paying $123 on Monday to have my wife martyr her shoulder to the backpacking Allah.
Setting up the tent at southwest Split Rock River campsite. For those of you wondering about my stylish headgear -- it is the sleeve of an Eddie Bauer T-shirt that someone gave me several years ago.
Things improved once we got to our campsite and I rubbed my wife's shoulders. Despite my giving her a massage, my amorous advances were spurned on the grounds that Rachel would not be able to bathe for the next several days. Yeesh. What is the point of trekking nine miles into the wilderness if you don't get little nature lovin'?
Waterfall on Split Rock River.
When I was a boy, my family went camping quite a bit, but it was always that sort of camping that involves driving your car to a site and sometimes even sleeping in the car after your dad has managed to let a wasp into the tent. Usually these sort of camping trips meant steaks or hamburgers or hot dogs for dinner. Sadly, this was not the case on the Superior Hiking Trail. For dinner we each had a cup of rice flavored with chicken bouillon. For breakfast we ate oatmeal. Any hunger in between was satiated via homemade trail mix.
Rachel with Lake Superior in the background
I have to admit that I didn't sleep particularly wonderfully our first night. I am a city boy. The absence of city noise and the un-bear-proof quality of my tent made me a little uneasy. Actually, I think it was the latter that really bothered me. Plus, I worried that I hadn't properly put out the fire before going to bed and my night was filled with dreams of having to explain how I managed to burn down one of the natural treasures of my beloved Minnesota.
Looking out toward Lake Superior
The second day was better all-around. We hiked a shorter distance and were able to sit around the camp reading for a while before the sun went down. That night we walked out onto the open rock of Chapin's Ridge and looked up at a sky full of stars. I spotted three shooting stars and two satellites. Overnight, we heard a fawn's distress call, which was probably connected with the howl of a timber wolf I heard the next morning.
Rachel strikes a stylish pose. No doubt the dudes who put out the REI catalog will be calling her soon.
If we had been smart, we would have scheduled for a
shuttle
to pick us up, so we wouldn't have to backtrack. But planning is not a strength for either Rachel or me, so we headed back to our river campsite on the third day. When we got to the site, I decided to wash off some of the grime that had accumulated over the past few days and jump into the water. The water turned out to be a little cooler than I had expected, so I didn't get a chance to scrub off the dirt.
Jumping into a section of the Split Rock River.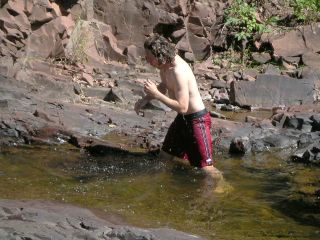 Jumping out of a section of the Split Rock River. If you look closely at my face, you can see I'm saying: "Wooo!"
It rained on us that night, forcing Rachel and me into the tent by 9 p.m. Almost immediately, the flashlight's batteries went out (and the spare batteries were in a bag that we had already wrapped in plastic and set outside the tent), so Rachel had me tell her a few random stories and she fell asleep almost immediately.
Laying there, dirty, sick of eating nothing but rice and oatmeal, stuck in a pitch-black stuffy tent at 9 p.m., I thought of my job for the first time.
"At least I'm not at work," I said aloud.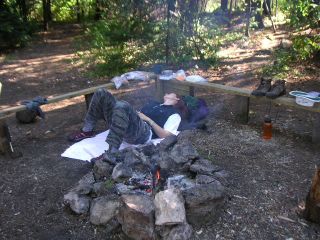 Rachel naps by the fire at Chapin's Ridge Campsite
I mentioned before that I missed blogging, but I'll be honest with you that the thing that was most on my mind as Rachel and I finished up our trip was something else: Beer. For nine miles, scrambling up and down hills and stumbling over tree stumps and feeling rising pain in my right knee, I thought about what kind of beer I was going to have when I returned to civilization.
"You shall not pass!" -- At the Split Rock River crossing, attempting to impersonate Gandalf's stand against the Balrog. This picture might be funnier if you had just crossed this bridge, which bounces and shakes a hell of a lot more than it looks like it should.
I had a Summit Extra Pale Ale. After showering at Gooseberry Falls State Park's more civilized drive-in campground (not on the trail), Rachel and I drove down to Duluth and ate at Grandma's. We are Twin Cities dorks. We eat at Grandma's every time we go to Duluth. For many of us who live in the Cities, there are two things to do in Duluth: Go to Grandma's, and view that one museum that has an exhibit that plays "The Wreck of the Edmund Fitzgerald" over and over and over.
Rachel leads the way.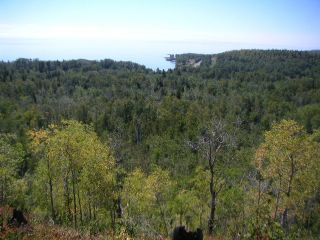 There is a road in this picture. Can you spot it? It was the only road I saw for four days.