I'm thinking of replacing my current profile picture with one taken last weekend when Rachel and I were in Kentucky. I've narrowed it down to the three below, which I have suddenly named Bourbon, Sleeve, and Beer. Which of these do you think I should use? Or should I just keep
the current picture
? Let me know what you think.
Bourbon
Here I am attempting to enjoy one of Kentucky's fine bourbons. That's a lie. I grabbed Dan's drink because I didn't want to be pictured holding a can of light beer. There's a lot of falsity to this picture -- I also don't smoke.
Sleeve
The immediate problem here is that someone else has gotten their sleeve into my picture. Secondly, I am pictured holding an American light beer (I can't now remember what it was) -- I am concerned that this light beer drinking sends the wrong message to today's impressionable youth.
Beer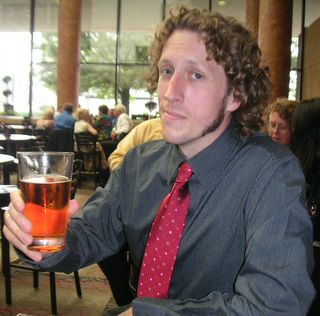 It's got the usual elements -- me and beer. It's also got that "It's 5:01 p.m. and I just got off work" look, giving the false impression that I wear a tie to work.