As
mentioned earlier
, getting to Cardiff wasn't exactly luxurious. The first problem came in my failing to realize from whence I would depart on Sunday morning.
When I had gone to the trouble to look up various
train times
, I had done so on the assumption that I would be departing from Hereford. But since I was dropped off at Ludlow, I decided to just wing it and take the first south-bound train that came by. Have American accent, will travel -- my accent lets people know that I am an idiot and gives me leave to ask all sort of stupid questions or show up in train stations that are nowhere near my destination.
The high side of leaving from Ludlow was that the station's wee ticket office was not open. Because the train was so full that people had to stand, the conductor did a good job of hiding so as to avoid people's complaints and suggestions that Arriva should stop offering such miserable service. As a result, I got to ride for free.
The train I caught was not going to Cardiff, so I departed in Abergavenny and waited for a Cardiff-bound train to show up. Waiting consisted of my going to a pub and watching rugby.
The Cardiff-bound train was also packed, but I was less inclined to complain because a very attractive young woman chose to spend the entire journey using me as a wall. I did think it was a bit odd, but, you know, if God wants to spend an hour rubbing some woman up against me I'm not going to complain.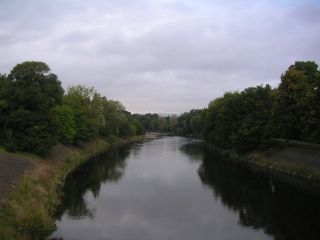 The River Taff, running through Cardiff's Bute Park
A bridge over the River Taff
Man fishing in the River Taff -- keep in mind that this is right in the heart of Cardiff.
Bute Park also has acres and acres and acres of football and rugby pitches
On Monday morning I got up and walked around Cardiff for a bit. It is a unique, hodge-podge sort of city and I think I'm going to enjoy living there. One of the things I like is Bute Park, the massive park that runs through the heart of the city. The River Taff runs through it and there are sections that are so peaceful you can just sit there and forget the fact that you are in the middle of about 300,000 people.
My hotel was located in Pontcanna and the university is located in Cathays, neighborhoods that lie on opposite sides of the park. As a result, I found myself walking through the park every day.
Cardiff City Hall
Dragon statue on top of Cardiff City Hall
War memorial in Cardiff's Alexandra Gardens
Cardiff Bay
The random sculpture that's featured in every informational packet on Cardiff. The dog is very cartoonish and both the woman and man are holding objects commonly used to hit dogs with.
Pierhead building in Cardiff Bay
Future home of the Welsh Assembly in Cardiff Bay. If Disney ever takes over a country, its government will be housed in a building like this
Millennium Centre in Cardiff Bay. The inscription on the building is in English in Welsh and doesn't make a damn bit of sense to me. If reads: 'Create truth in these stones like a glass of horizons. From a furnace muses sing.' WHAT?!
Millennium Stadium, along the banks of the River Taff.
One of the things that really amused me about Cardiff was the caliber of its street performers. Apparently, the chief rule for busking in Cardiff is that your act must be surreal. For example, it's not good enough to just play the violin, you must do so whilst enveloped by a large toy monkey.
A number of the performers have become local legends, like Ninja, the guy who plays drum beats on rubbish bins. It's just him, a pair of sticks, a rubbish bin, and the same 4/4 beat over and over and over again. Occasionally he will break the monotony by rocking you with some street poetry. My favorite piece of his was something I like to call "Unfinished Haiku." It went like this:
"All of you are fat!"
Also working the crowds is the beloved Toy Mic Trevor. This man is such a legend that he has his own
website
(takes a really long time to load) and is mentioned in
Wikipedia
.
The toilets in Cardiff's central bus station are lit by an ominous blue light. It makes you feel as if you are in the middle of a movie about vampires on heroin.
After finding the university building where my interview was to be held the next day, I was back at my hotel in time for a taxi to pick me up and take me to the
Radio Cymru
studios. I was there for a radio interview with
Hywel and Nia
, with whom I spoke for a really, really long time. The interview was recorded, though, so I don't know how much actually ended up getting aired.
It was my second time to be on Radio Cymru.
Mair
told me that her grandmother had heard of me -- I'm bridging the generation gap.
Me, Hywel and Nia in the studios of Radio Cymru
Mair is one of the fellow Welsh-language bloggers who took the time to go out with me on Monday night. Also there were
Geraint
and
Rhys
. I am still convinced that my Welsh was insufferable but they were all extremely complimentary, and talking with them gave me a huge amount of confidence going into my interview.
We sat around for just shy of four hours and every once in a while I would think to myself: "Holy shit. We're all speaking Welsh! And I understand what is being said! How is this happening? How the hell am I actually communicating in another language?!"
It felt very much like magic, as if I was somehow playing a trick on God.
I had such a good time that I failed to remember to take a picture for blog posterity until after Rhys had left. That's extreme ass behavior on my part -- failing to get a picture of the guy who went to the trouble to actually organize people to get together; a get-together that almost certainly locked in my success the next day.
Geraint, Mair and me in the Mochyn Du pub
I had such a full trip that it's almost easy to forget that the interview was the whole point of my going to Wales. Everything else that occurred came as a result of my trip and simply fell around the interview. I spent most of that morning reading a Welsh-language book and then walking through Bute Park in an attempt to calm my nerves.
As it happened, the interview went pretty good.
One of the things that interested me about this specific
program
is that in the first year, second- and first-language students are split. This allows second-language students to move a bit slower without fear of driving fluent speakers to homicidal rage. When I mentioned this as one of my reasons for wanting to come to Cardiff, the interviewer said that my spoken Welsh was good enough that they might allow me to be in the first-language group. There are conditions to that, of course, and I am wary of doing such bragging. After all, the interviewer said that my written Welsh could use some more work.
At one point, late in the interview, the overall exhaustion of the experience hit me and I choked on a really simple question. After I righted the ship and answered the question, I was asked to leave the room. I thought that I had managed to sink the interview, but two minutes later they brought me back in and offered me a spot in the course.
I fucking rock, yo.
Although, at the time, my brain was shot and I was so emotionally drained that I just sort of mumbled: "Oh, diolch" ("Thanks"). Indeed, I was shot for the rest of the night. My
original plan
of drinking like a madman was tempered and became instead a really good meal at a restaurant called the
Armless Dragon
and a quiet walk in the pissing rain. I sat next to the poshest family in all of Wales at the restaurant. Congratulations on your new job, Sophie, darling.
Millennium Stadium
The next day was the Wales-Azerbaijan match. Wales won, but as
Cheeky
pointed out, it was less of a football match and more of a quiet evening among friends. If there were some football body that wanted to attract a more genteel crowd, they should use video footage of us on Wednesday as part of their campaign.
But I still had a great time.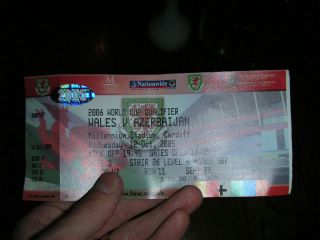 My ticket for Wales vs. Azerbaijan
Both teams line up for the singing of the national anthems.