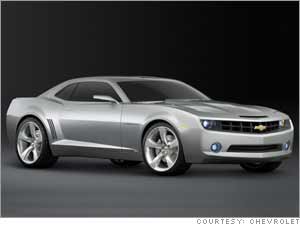 Chevrolet has introduced its new Camaro (mispronounced today by a BBC reporter as the "kä-mä-rO"), which I like the look of and secretly want, despite the fact that its 6-liter engine would suck up petrol like a small country and it will almost certainly be a flashy piece of shit.
Although, allegedly American cars are
not as shitty
as we believe them to be -- they're just not as good as we expect them to be.
It's probably a sign of American automakers' demise that many of the cars introduced over the last few years and at this week's auto show -- including the
Chrysler Imperial
and the
Dodge Challenger
-- are designed to remind us of a time when American cars were not worthless pieces of crap.
Kobe Bryant did not actually score those 81 points in a single game. It was Chuck Norris in a Kobe Bryant costume.
Ooh,
classy
. I wonder if he does those in velvet.
You fool! You fell victim to one of the classic blunders. The most famous is never get involved in a land war in Asia, but only slightly less well-known is this:
never sign a legally-binding contract with Vince McMahon
.
Random rude thing I wanted to say to a girl wandering the halls of my benevolent employer: "Honey, with your long red hair and Pippi Longstocking braids, you're pretty much ticking every box on my fetish list. Do you have a Catholic school girl outfit?"
Random EastEnders dialogue:
GARRY:
Why can't we all just be happy with what we've got?
MINTY:
Maybe because most of the time what we've got is rubbish.